Papillon will arrive in high definition in May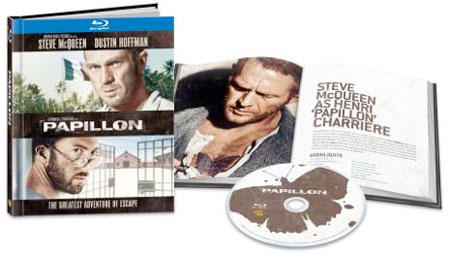 Warner Home Video has just added a Blu-Ray Disc version of Papillon to their line-up, scheduling the movie for release in May.
Directed by Franklin J. Schaffner (Patton, Planet of the Apes), and based on a bestselling book, Papillon is a true story about French ex-convict Henri Charriére – a petty criminal who is unjustly convicted of murder, and his constant struggle to escape to freedom from the brutal French penal system in Guiana's infamous Devil's Island. The film is considered to be one Steve McQueen's more compelling performances, a nuanced portrayal of a tortured and tormented soul, representing a departure from his usual "cool guy" roles. Papillon is a thrilling film that also gives combined hope and courage, making for very compelling entertainment.  
The Blu-Ray Disc will be released as one of Warner's acclaimed Blu-Ray Books, featuring a 32-page booklet, filled with fascinating information about the film, archival photos, and an examination of the controversy surrounding the film.
No exact bonus materials have been announced yet, except for the inclusion of a Vintage Featurette called "The Magnificent Rebel." We will, of course, keep you posted once more information becomes available.
"Papillon" will suffer all the injustices thrown at him on May 24 for $34.99.