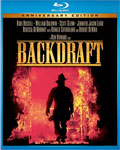 Backdraft (1991)
Universal Home Video
Cast: Kurt Russell, Robert DeNiro, William Baldwin, Scott Glenn
Extras: Introduction, Deleted Scenes, Featurettes
Rating:
Admired for it's well executed and technically accurate portrayal of real life firefighting situations, director Ron Howard's 1991 production of "Backdraft" is finally available on Blu-Ray Disc also.
"Backdraft" initiates a somewhat somber beginning as a young Brian McCaffrey (Ryan Todd) is taken along for a thrilling ride with his firefighting father, while his team responds to an emergency. The excitement is short lived for the wide-eyed youngster as he soon bears witness to the horrific death of his father. Seen clutching the fallen heros still smoldering helmet, Brian becomes a prime subject of an ever ambitious photographer, landing the photo on the cover of LIFE magazine. This captured moment later serves as a bit of a centerpiece to the film.
The story then moves to a later date as the now adult Brian (played by William Baldwin) decides to follow through in his family's tradition of becoming a fire-fighter. Pitted against estranged brother and fellow fire-fighter Stephen (Kurt Russell), who evokes a tough love approach to their relationship, Brian feels the pressures of trying to earn the respect of his brother, as well as his fellow firemen.
Soon after, Brian is given the opportunity to work as an assistant to chief fire inspector Donald Rimgale (Robert De Niro). Hot on the trail of a sadistic arsonist/murderer, Donald and Brian utilize the help of Ronald Bartel (Donald Sutherland), who manages once again to impress with his performance of an uncomfortably creepy inmate who is institutionalized for sadistic crimes involving arson. "Backdraft" appears a bit formulaic at times in it's attempt to highlight the all to familiar conflicts between siblings, but manages to produce a few solid performances along the way. The only sore spot for me was Jennifer Jason Leigh. The usually dynamic actor turns in a rather clumsy performance playing an assistant to a rising political wanna-be.
Universal Studios Home Entertainment presents the Blu-Ray version of "Backdraft" in a magnificent 1080p high definition transfer. I haven't seen "Backdraft" in quite some time, but in my opinion, it's simply the best that the film has ever looked. Stunning color saturation is immediately evident within the abundance of fire fueled sequences that offer an intense orange glow. A stable and rich black level helps to define the slightest of details throughout the presentation. Take for example one scene involving Robert De Niro's character investigating a crime scene. As he holds up his flashlight during a close up, you can actually see tiny details in the dust and ash particles illuminating from the charred set. Flesh tones remain natural and accurate in reproduction, never appearing too "warm" or too "cool". The only weak point in this transfer is the slightest introduction of dust and dirt elements that appear mostly during the first 15 minutes of the film. Other than that, this Blu-Ray Disc of "Backdraft" is a fine entry in Universal's high def catalog.
As a great upgrade from the previously released HD-DVD version, this Blu-Ray Disc actually comes with a DTS 5.1 HD Master Audio track that is actives and dynamic to boot. Offering a robust bass level felt through the lower frequency .1 channel and good use of all available channels, this Blu-Ray version of "Backdraft" is every bit as satisfying in its audio presentation as one could possibly have hoped.
Like previous releases, "Backdraft" features a complementing assortment of special features, starting with a brief introduction from director Ron Howard preceding the feature presentation of the film.
Including over 43 minutes of deleted footage, I recommend taking the time to view these omitted scenes, so long as you can get past the un-polished appearance with the odd grease pencil markings and 4:3 aspect ratio. This is one of those rare times where I felt some of the deleted footage would have easily enhanced a few key scenes in the final cut of the film.
"Igniting the Story" is an in-depth behind-the-scenes featurette that looks at "Backdraft" during the films pre-production stage. "Bringing Together the Team" explores the casting and assembling of actors for the key roles in the film. "The Explosive Stunts" analyzes all of the physical demands that were needed to create the full realism for "Backdraft". And my personal favorite, the featurette "Creating the Villain: The Fire", which examines the visual effects of "Backdraft". Here you will see how performers were placed near real flames and heat (all controlled of course) to produce director Ron Howard's vision of the look of combat footage. Real gas, real heat, real flames that provide "Backdraft" with a brutal realism, all without the help of CGI. A short featurette titled "Real-Life Firemen, Real-Life Stories" offers interviews with the firemen from station 73 in Santa Clarita, California. This segment features the men discussing their personal appreciation of "Backdraft" and how the film brought positive attention to the real-life role of a fire-fighter.
While none of these extras are new and have been previously released on DVD and HD-DVD versions, "Backdraft" is a solid catalog release from Universal that pays proper tribute to on of Ron Howard's more overlooked films despite the fact that his brilliant use of traditional special effects to bring the pyrotechnic theme to life, once again creates an upstanding film.
In addition, Universal has added the "Scene Companion" to the release, a picture-in-picture video commentary that offers up additional information about key scenes of the film.
"Backdraft" might not rival his filmmaking best, but it does make for one heck of an action packed spectacle.