Aloha Scooby-Doo! goes swimming in Blu-Ray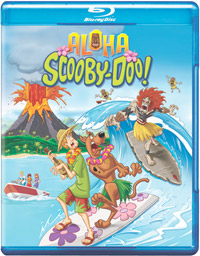 Warner Home Video has added Aloha Scooby-Doo! to their line-up, bringing the animated movie to Blu-Ray Disc for the first time in May.
Scooby-Doo and the Gang head to Hawaii for a big surfing contest that is disrupted by the grumblings of a nearby volcano and the disappearance of a surfing hottie. Scooby-Doo and the Gang romp around the jungle, snorkel, paraglide and surf their buns off, as they battle the mysterious appearance of the "Wiki-Tiki," trying to solve the mystery before the volcano erupts.
The release will feature a 1080p high definition transfer of the movie in its original 1.78:1 aspect ratio and will be supplemented by a cool DTS 5.1 HD Master Audio track.
As extras you will find the Making-of Featurette "The Wiki-wiki Tail of Aloha Scooby-Doo!" on the disc, along with the Cast Q&A An Evening With the Scooby Doo Gang .
"Aloha Scooby-Doo!" will arrive in stores on April 5 for $19.98.