Treme: The Complete First Season arrives n March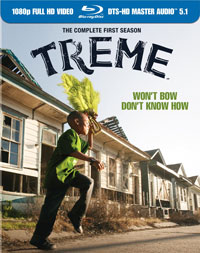 HBO Home Entertainment is bringing Treme: The Complete First Season to DVD and blu-Ray in spring.
Treme is one of New Orleans' oldest neighborhoods, an important center of African-American and Creole culture, especially music.  The series highlights the role this unique district has in the Crescent City and tells the interconnected personal stories of the musicians, teachers, restaurateurs, radio deejays and community leaders who endure and thrive in the wake of the disaster.  Treme: The Complete First Season begins three months after Katrina, more than half the population of New Orleans is elsewhere and much of the city is wrecked, muddied and caked in mold, while other neighborhoods – in "the sliver by the river," as locals call it – remain viable.  But the tourists have yet to return, the money that follows them is scarce, and residents can take solace only in the fact that the city's high levels of crime have migrated to Houston and Baton Rouge.   And for those returning, housing is hard to come by, with many people waiting on insurance checks that may never arrive.
Filled with engaging stories about the vibrant culture and music that makes New Orleans distinctive among American cities, the bonus materials allow fans, as well as new viewers, to immerse themselves in its flavor and rich heritage.  The DVD version includes three Featurettes, titled "The Making of Treme," offering a behind-the scenes look at the series featuring interviews with cast, crew and historians, "Treme: Beyond Bourbon Street," an exploration into the history of the neighborhood and its innate ties to song and dance and "The Music of Treme," a guide to the songs featured throughout the series via an in-episode viewing mode.  Also included are five audio commentaries with cast and crew and ten music commentaries with WBGO's Josh Jackson and NPR Music's Patrick Jarenwattananon.
 
The Blu-ray Disc is presented in 1080p high definition video and a DTS 5.1 HD Master Audio track.  It contains all the bonus materials found on the DVD version, plus Enhanced Viewing on all ten episodes which amplifies the picture-in-picture experience with original, interactive content.  Exclusive to the Blu-Ray version are the Featurette "Down in the Treme: A look at the Music and Culture of New Orleans," including its music, cuisine, landmarks and more via an in-episode viewing mode, and an enhanced version of the DVD featurette "The Music of Treme," which also allows for interactive viewing.
"Treme" will be in stores on March 29 for $59.99 on DVD and $79.99 on Blu-Ray Disc.