Universal feels Mercury Rising on Blu-Ray at a lower price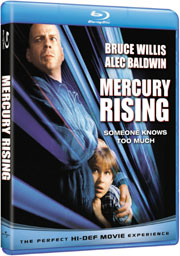 Universal Home Entertainment has just added Mercury Rising to their line-up again, bringing the thriller to Blu-Ray Disc in February at a reduced price.
Art Jeffries (Bruce Willis), a renegade FBI agent, combats ruthless Federal agents to protect Simon, a nine-year-old autistic boy who has cracked the government's new "unbreakable" code. He can read MERCURY, the most advanced encryption code, as easily as other kids read English. This ability renders the new billion-dollar secret code vulnerable, especially if enemies of the United States should learn of Simon's abilities and capture him. Program Chief Nick Kudrow orders the "security threat" eliminated, but Kudrow hasn't counted on Jeffries getting involved. As they are trailed by deadly assassins, Jeffries quickly realizes that no one can be trusted. Now time is running out and he discovers his only hope of survival is using Simon's special ability to bring their adversaries to justice.
The Blu-Ray version will feature a 1080p high definition transfer with DTS 5.1 HD Master audio. The same extras will be included as on the previous release, namely Watch The Mercury Rising and Deleted Scenes.
Available for only $19.98, the re-release of "Mercury Rising" will be in store on February 15.