Lionsgate advises you how to get Married In A Year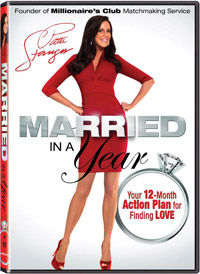 Now here's a DVD announcement sure to make your day. Lionsgate Home Entertainment has just announced the upcoming DVD release of a self-help video called Patti Stanger: Married In A Year in February.
Still looking for "The One?" Want-to-be celebrity Patti Stanger from Bravo's slightly dubious and pretentious TV series "Millionaire Matchmaker, " claims she has brought together thousands of happy couples.  This February, she'll help fans across the country make their marriage dreams come true with the release of Patti Stanger: Married in a Year.  By following Stanger's 12-month action plan for finding love, they could be planning a wedding in a year! With her expert knowledge, no-nonsense approach and razor-sharp wit, Stanger, a third generation matchmaker, will motivate and guide the love-lorn through all the steps from successful dating to negotiating the ring.
I told you this will make you laugh – or cringe, depending of you point of view on this. Either way, the DVD will be in stores on February 1 for $14.98.