Have a Dinner For Schmucks in January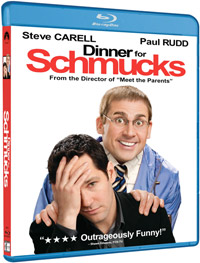 Paramount Home Entertainment and Dreamworks Home Entertainment have announced the release of the comedy Dinner For Schmucks on DVD and Blu-Ray Disc in January.
There's only one thing keeping aspiring executive Tim (Paul Rudd) from corporate success. He must find the perfect guest to bring to his boss's monthly dinner party, where the winner of the evening is the one who arrives with the biggest buffoon. Luckily, Tim meets Barry (Steve Carell), a guy who re-creates famous works of art with stuffed mice. When the duo show up to dine, the lunacy kicks into high gear. It's a hilarious feast about two unlikely friends and one outrageous dinner!
The DVD version features an anamorphic widescreen transfer of the film with Dolby Digital 5.1 audio. In addition you will find the Featurettes "The Biggest Schmucks in the World" and "Schmuck Ups" on the disc, along with a few Deleted Scenes.
The Blu-Ray version features a 1080p high definition transfer with DTS 5.1 HD Master Audio. This disc will include the Featurettes "The Biggest Schmucks in the World," "The Men Behind the Mouseterpieces," "Meet the Winners," "Paul and Steve: The Decision " and "Schmuck Ups", all in high definition. Also included are the Deleted Scenes in high definition also.
"Dinner For Schmucks" arrives in stores on January 4 for $29.99 on DVD and $39.99 on Blu-Ray Disc.