Dario Argento's Inferno makes it to Blu-Ray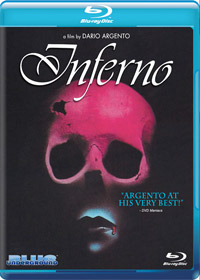 Blue Underground has just added Dario Argento's Inferno to their line-up, scheduling a new DVD version and a Blu-Ray version for release in Marc.
A young woman stumbles upon a mysterious diary that reveals the secrets of "The Three Mothers" and unleashes a nightmare world of demonic evil. As the unstoppable horror spreads from Rome to New York City, this unholy trinity must be stopped before the world is submerged in the blood of the innocent.
Written and directed by Dario Argento, "Inferno" is considered to be the sequel to his classic "Suspiria." This surreal shocker stars Irene Miracle, Daria Nicolodi and Leigh McCloskey, and features a pulse-pounding original score by Keith Emerson of Emerson, Lake & Palmer.
The DVD version will feature a freshly transferred presentation of the film in anamorphic widescreen with DTS 6.1 ES audio. As extras, the release will contain Art & Alchemy, an interview with star Leigh McCloskey. Also included is Reflections of Rose, an interview with star Irene Miracle, as well as an Interview with Writer/Director Dario Argento and Assistant Director Lamberto Bava.
Also included on the release are the film's Theatrical Trailer and an Introduction by Dario Argento.
The Blu-Ray version arrives as a brand new 1080p high definition presentation with DTS 7.1 HD Master Audio track. The disc will also include all of the bonus materials from the DVD version mentioned above.
"Inferno" arrives on March 29 for $19.98 on DVD and $29.98 on Blu-Ray Disc.