Universal schedules Death Race 2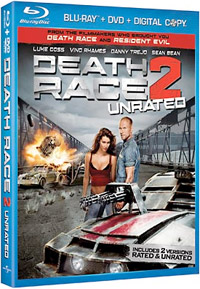 Universal Home Entertainment has just put down the date for Death Race 2, bringing the action film to DVD and Blu-Ray Disc in January.
"Death Race 2" takes place in the very near future, as the United States economy begins to decline and violent crime starts to spiral out of control. To contain the growing criminal population, a vast network of for-profit, private prisons springs up, creating a lawless subculture ruled by gangs, cold-blooded killers and sociopaths. The worst of these prisons is Terminal Island, where inmates fight each other in a highly rated televised death match, where there are no rules, and the winner is the one who survives the gladiator-style, noholds-barred competition. Convicted cop-killer Carl Lucas (Luke Goss) arrives on the Island to serve his life sentence just as ruthlessly ambitious television personality September Jones evolves the death match into the ultimate reality show – Death Race. A brutal prison yard demolition derby that pits prisoners against each other in steel reinforced, heavily armed vehicles, Death Race offers the winner the ultimate prize: freedom — if he can survive to enjoy it.
The DVD version will offer an anamorphic widescreen transfer of the film with Dolby Digital 5.1 audio. As extras, the release contains a Commentary Track by director Roel Reiné, as well as a selection of Deleted Scenes with introduction by the director and a Deleted Shots Montage with introduction by the director.
The Featurettes "The Race Begins: The Evolution of the Death Race" gives you a look at how the prequel fits into the "Death Race" franchise, while in "Cheating Death: The Stunts of Death Race 2" the film's death-defying stunt crew invites viewers along on the ride of a lifetime. "Fast Cars and Firearms: The Cars of Death Race 2" offers you a look under the hood of the awe-inspiring autos featured in the film.
The Blu-Ray Disc version contains all those bonus materials also, but further supplements the film with BD Live Features , Video Timeline and other small features.
"Death Race 2" arrives in stores on January 18. No price has been announced yet.