The Films of Rita Hayworth are coming to DVD as a Collection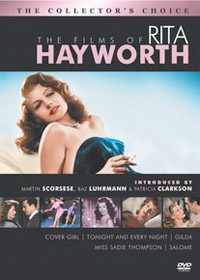 Sony Pictures Home Entertainment has just unveiled plans to release a 5-disc DVD Collection in December, featuring The Films of Rita Hayworth.
Rita Hayworth, who was born Margarita Cansino, the daughter of Spanish and Irish parents, trained from a young age as a professional dancer and would become one of the more enduring symbols of glamour and sex appeal of her era. As a result of her sultry good looks and talent displayed in every genre, including comedies, dramas, musicals, thrillers, and even westerns, Rita Hayworth became the unmatched Queen of the lot at Sunset and Gower, in Hollywood, and one of Columbia's most important contract stars. By 1940, a picture starring Rita Hayworth guaranteed the highest level of production values and her films are some of the most iconic of their era. Now Sony Pictures and The Film Foundation have teamed again to bring five of her finest films to DVD–three of them for the first time. These films highlight Hayworth's charm, grace and allure as a dancer, dramatic actress, and vamp–while charting the exceptional range of her career. It's a collection that showcases one of Hollywood's most unforgettable stars…and is certain to win her legions of new admirers as well.
Cover Girl — Rita's gorgeous red hair made her a natural for Technicolor, and her beauty is amply displayed in this musical about a dancer who unexpectedly becomes a magazine cover model. Dance partner and love interest, Gene Kelly (who also served as an un-credited choreographer with Stanley Donen) becomes jealous when her rising celebrity clashes with his ambition. The songs are by Ira Gershwin and Jerome Kern, with supporting actors Phil Silvers, Lee Bowman, Otto Kruger, and Eve Arden rounding out the superb cast.
Gilda — Gilda (Rita Hayworth), the wife of a casino owner (George Macready) in Buenos Aires, is surprised to be introduced to her husband's new casino manager (Ford), a man from her past. Rita's legendary striptease to "Put the Blame on Mame" is an unforgettable moment in one of the greatest of all film noirs, and the peak of her career–not to mention a searing depiction of one of the most erotic and tortured relationships on film. Directed by Charles Vidor, the film co-stars Joseph Calleia, Stephen Geray and Gerald Mohr.
Miss Sadie Thompson — The fourth screen version of the famed Somerset Maugham story details the arrival of a free-spirited woman to Samoa, where she naturally arouses the interest of the Marines based there (especially sergeant Aldo Ray), as well as the wrath of the fire-and-brimstone preacher (Jose Ferrer) who wants her sent away immediately. Curtis Bernhardt (A Stolen Life) directed the film, which was originally released in 3-D.
Salome — Rita plays the gloriously beautiful but wicked Salome with relish in this Biblical tale of the stepdaughter of Roman King Herod (Charles Laughton), whose growing lust for his charge leads her to make a very unique demand involving John The Baptist (Alan Badel). William Dieterle (The Hunchback of Notre Dame) directed this lavish production, which also stars Stewart Granger, Dame Judith Anderson and Sir Cedric Hardwicke.
Tonight and Every Night — This moving picture of life in war-time London is a tribute to those enduring the nightly bombing raids that strafed the city, and Hayworth is radiant as an American showgirl in London. Another gorgeous Technicolor musical and an unusual dramatic role for Rita, based on the real theater troupe who never missed a performance, despite increasingly dangerous circumstances. Victor Saville (Goodbye, Mr. Chips) produced and directed the film, which co-stars Lee Bowman, Janet Blair and Leslie Brooks.
In addition to these movies, the DVD set will also contain a Commentary with Author/Filmmaker Richard Shickel, as well as the Featurettes Baz Luhrmann on "Cover Girl," "Introducing Miss Sadie Thompson" with Patricia Clarkson, and Patricia Clarkson on "Tonight and Every Night."
"The Films of Rita Hayworth" will be in stores on December 21.