You can get The Long Kiss Goodnight in December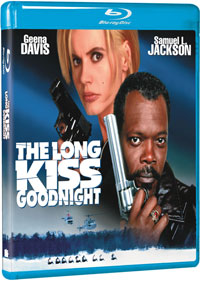 Warner Home Video has added the New Line Video action thriller The Long Kiss Goodnight to their release line-up, bringing the movie to high definition in December for the first time.
Samantha is a suburban mom who makes a killer lemon meringue pie. Charly is a covert op who kills. They're both the same person. Both may be as good as dead. Geena Davis stars as a woman whose fading amnesia reveals her secret life as an elite government assassin, and Samuel L. Jackson portrays the low-rent detective helping her unlock her memory, all while rogue agents scramble to bury Samantha/Charly and her past. Renny Harlin (Die Hard 2) directs and Shane Black (Lethal Weapon) scripts a full-tilt wallop of breakneck action. Nonstop excitement – sealed with a kiss!
The release will feature a 1080p high definition transfer of the movie, complete with high definition audio. As bonus materials you will find the Featurette "The Making of The Long Kiss Goodnight" on the disc, along with the movie's Theatrical Trailer.
Keep your eyes open for "The Long Kiss Goodnight" when it hits stores on December 7 for $19.97.