The Trial comes to DVD in November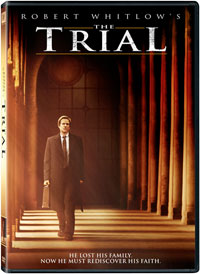 20th Century Fox Home Entertainment has added a DVD version of The Trial to their line-up, scheduling the DVD for release in early November.
Matthew Modine delivers one of his finest performances in this gripping courtroom thriller based on the best-selling novel by Robert Whitlow. Modine stars as "Mac" McClain, an emotionally crippled attorney who's lost his faith in God and himself. That's when Mac reluctantly decides to take on one last case: a young man (Randy Wayne), facing the death penalty for first-degree murder. But nothing can prepare Mac for the startling twists and turns of the ensuing trial, as the determined lawyer fights for justice and seeks a path to his own redemption.
Featuring an anamorphic widescreen transfer with Dolby Digital 5.1 audio, it is not know what kind of extras you may find on the release, as the studio has not announced any details yet.
Look for "The Trial" on November 9 or $22.98.