Battlestar Galactica will send the final season to high definition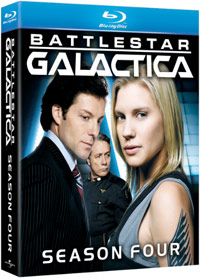 Universal Home Entertainment has added Battlestar Galactica: Season 4 to their release line-up, scheduling this final season to re-appear on Blu-Ray Disc in January.
All will be revealed as the thrilling final season of Battlestar Galactica lands on Blu-ray Hi-Def. From their initial action-packed battles against the Cylons to their desperate attempts to find the fabled 13th colony, Earth, a determined band of human survivors has captivated audiences everywhere with their desperate quest to find a new home for their dwindling numbers. Join them now as the fleet journeys into the farthest reaches of unexplored space and faces a crucial decision that will change all of their lives irrevocably. Containing all 20 Season Four episodes, this epic 6-disc set is loaded with hours of riveting bonus features and includes the unrated, extended version of "Battlestar Galactica: Razor" that never aired on television.
Featuring a 1080p high definition transfer with DTS 5.1 HD Master Audio, the release is jam-packed with bonus materials, such as the U-Control Features "The Oracle" and "Battlestar Actual", as well as the Featurettes "The Look of Battlestar Galactica" and "My Favorite Episode So Far".
Also look for Trailers and Sneak Peeks as well as Minisodes and a Commentary Track to the Unrated Extended Edition with Executive Producer Ronald D. Moore and Writer Michael Taylor. In addition, there are the BD Live Download Center and Battlestar Galactica Card Game.
David Eick's Video Blogs can also be found on the release, along with Ronald D. Moore's Podcast Commentaries as well as the Featurettes "The Journey" and "Cylons: The Twelve". Season 4.5: The Untold Story – Untold and The Music of Battlestar Galactica are also part of the package, along with Caprica Sneak Peek and more Commentary Tracks on selected episodes.
The seemingly endless list continues with The Journey Ends: The Arrival, Evolution of a Cue, What the Frak Is Going on with Battlestar Galactica?, A Look Back, …And They Have a Plan and The Musicians Behind Daybreak.
"Battlestar Galactica: Season 4" will show up in your galaxy on January 4 – yes, 2011, that is – and can be yours for $89.98.