Get Him To The Greek will cough up laughs in September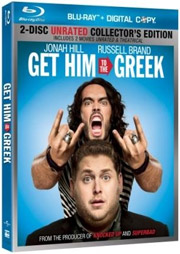 Universal Home Entertainment has added the comedy Get Him To The Greek to their line-up, scheduling the film for release on DVD and Blu-Ray Disc in fall.
Jonah Hill and Russell Brand reunite in a raunchy, raucous comedy from the writer and director of the smash hit comedy "Forgetting Sarah Marshall." Aspiring record company exec Aaron Green (Hill) has the brilliant idea of rejuvenating the career of fading British rock star Aldous Snow (Brand) with a comeback concert at the world-renowned Greek Theater in Los Angeles. Dispatched by his boss (Sean Combs) to transport the notoriously dissolute Snow from London to L.A., Aaron has just 72 hours to wrangle the out-of-control rocker across the Atlantic. The seemingly simple assignment devolves into a thicket of groupies and parties, as Snow does his anarchic best to undermine his handler at every turn and Aaron does whatever it takes to keep his unruly charge on track.
The DVD version will feature an anamorphic widescreen transfer of the movie with Dolby Digital 5.1 audio. It will be available as as single-disc version featuring the theatrical cut of the movie, as well as a 2-disc DVD set, featuring the theatrical and an unrated cut of the film, complete with bonus materials, such as a Gag Reel, Line-O-Rama, Blind Medicine, a promo for Sarah Marshall's new TV series, as well as a Commentary Track with director Nicholas Stoller, cast members Jonah Hill, Russell Brand, Rose Byrne, Elisabeth Moss and producer Rodney Rothman.
The release will also contain the Featurettes "Getting To Get Him to The Greek," "Getting In Tune With The Greek" and "The Making Of "African Child"".
Five complete Music Videos featuring Aldous Snow, Infant Sorrow and Jackie Q    are also part of the release, along with Musical Performances from Infant Sorrow's triumphant 1999 Greek Theater Concert and 2009 Comeback Concert, plus a peek at their infamous World Tour and the 2002 London Concert. Further, look for Deleted, Extended and Alternate Scenes including an Alternate Intro and Ending and a Digital Copy of the movie.
On Blu-Ray Disc, the film will also be released as a single-disc version and a 2-disc version. The release will include the same bonus materials as the DVD version, but will go a good step further by also adding even more Additional and Extended Scenes to the mix, Musical Performances from The Today Show and VH-1 Storytellers, and a Karaoke section allowing you to sing along to 15 outrageous songs.
Also included are the Actual Auditions that landed Rose Byrne, Elisabeth Moss, Nick Kroll, Aziz Ansari and T.J. Miller their roles, along with BD Live features, MyScenes, PocketBLU and a few other gimmicks, as well streaming access to to another movie of your choice.
"Get Him To The Greek" arrives on September 28.