Blue Underground unleashes the Maniac in high definition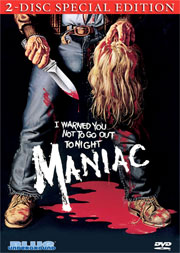 Blue Underground has added director Bill Lustig's own slasher flick Maniac to their release line-up, unleashing the terror on Blu-Ray Disc in October.
Frank Zito (a career performance by co-writer/co-executive producer Joe Spinell of Rocky and The Godfather fame) is a deeply disturbed man, haunted by the traumas of unspeakable childhood abuse. And when these horrific memories begin to scream inside his mind, Frank prowls the seedy streets of New York City to stalk and slaughter innocent young women. Now Frank has begun a relationship with a beautiful photographer (Caroline Munro of The Spy Who Loved Me), yet his vile compulsions remain. These are the atrocities of a human monster. This is the story of a Maniac.
Featuring a brand new 1080p high definition transfer from the original uncut and uncensored negative, the release will also feature a DTS 6.1 ES HD Master Audio track.
Arriving on two discs, the release will also be loaded with bonus materials, such as a Commentary Track with Co-Producer/Director William Lustig and Co-Producer Andrew W. Garroni, along with a second Audio Commentary with Co-Producer/Director William Lustig, Special Make-Up Effects Artist Tom Savini, Editor Lorenzo Marinelli, and Joe Spinell's Assistant Luke Walter.
Further you will find separate Interviews with Star Caroline Munro, Special Make-Up Effects Artist Tom Savini, Composer Jay Chattaway and Songwriters Michael Sembello and Dennis Matkosky on the release. Also look for Trailers and TV and Radio Spots on the disc, along with the Documentary "The Joe Spinell Story" and Featurettes about the "Maniac" Publicity and the "Maniac" Controversy.
"Maniac" will arrive in stores n October 26 for $24.98.