Warner celebrates The Goonies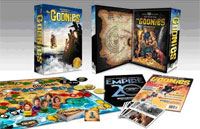 Warner Home Video has just announced details about a 25th Anniversary Edition of The Goonies, coming to DVD and Blu-Ray Disc in November.
From the imagination of Steven Spielberg, "The Goonies" plunges a band of small heroes into a swashbuckling surprise-around-every corner quest beyond their wildest dreams!  Following a mysterious treasure map into a spectacular underground realm of twisting passages, outrageous booby-traps and a long-lost pirate ship full of golden doubloons, the kids race to stay one step ahead of a family of bumbling bad guys…and a mild mannered monster with a face only a mother could love.
Overflowing with a treasure chest of premium items that celebrate this cherished film, "The Goonies 25th Anniversary Collector's Edition" will include an exciting new board game, collectible storyboard prints, a 1985 souvenir magazine with captivating behind-the-scenes stories about the actual filming in Astoria, Oregon, including the production design that transformed Astoria into the "Goon Docks," and a reprint of a 2009 article with updates of the entire cast, as well as producer Steven Spielberg and director Richard Donner.
"The Goonies 25th Anniversary Collector's Edition" will debut on November 2 for $49.99 on Blu-Ray Disc and $39.92 on DVD.