Three Kings hunting for high def gold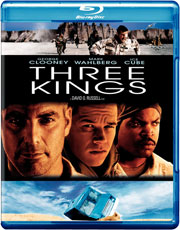 Warner Home Video has added Three Kings for release on Blu-Ray Disc in October.
While high-tech U.S. specialists fought, career soldier Archie Gates marked time in his Gulf War base camp. But now it's time for action. Gates and three other restless Americans decide to raid a bunker holding a stash of gold stolen by the Iraqi army. Get in, get out, get rich, be back in time for lunch: the plan couldn't be easier. George Clooney portrays Gates, Mark Wahlberg, Ice Cube and Spike Jonze are his fellow commandos and Nora Dunn plays an ambitious TV newswoman in this acclaimed film that by turns is a war movie, an antiwar movie, a surreal comedy and a powerful drama of human compassion.
Apart from a 1080p high definition transfer with DTS 5.1 HD Master Audio, the release will contain Additional Scenes and two Commentary Tracks, featuring Writer/Director David O. Russell on the first, and Producers Charles Roven and Edward L. McDonnell on the other.
Also included is the Featurette "Under the Bunker", taking you on the set of the film. You will also find David O. Russell's Three Kings Video Journal on the disc, along with An Intimate Look Inside the Acting Process with Ice Cube, and a Tour of the Iraqi Village Set with Production Designer Catherine Hardwicke. The disc will also include an Interview with Director of Photography Newton Thomas Sigel.
"Three Kings" arrives on October 12 for $24.98.