Fox will make you Glee in September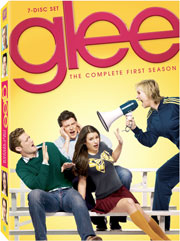 20th Century Fox Home Entertainment has announced Glee: The Complete First Season to be released on DVD and Blu-Ray Disc in September.
"Glee" follows an optimistic teacher who – against all odds and a malicious cheerleading coach – inspires McKinley High's Glee Club to conquer the world one singing competition at a time.
Apart from offering all 22 one-hour episodes of the show's first season, the Blu-ray and DVD are fully loaded with exclusive bonus materials and Extended Episodes, a Sing-Along Karaoke, a Behind-the-scenes Look at "The Power of Madonna" episode, Glee Makeovers, never-before-seen Sue's Corners and a Dance Tutorial titled "Staying in Step with Glee."
"Glee: The Complete First Season" arrives in retail stores on September 14 and can be yours for $59.98 on DVD or $69.99 on Blu-Ray Disc.