Blue Underground preps Vigilante on Blu-Ray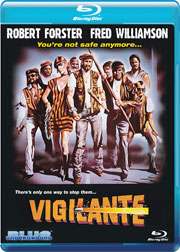 Blue Underground is putting the final touches to a Blu-Ray release of Vigilante, bringing the film to high definition in September for the first time.
New York City factory worker Eddie Marino (Robert Forster) is a solid citizen and regular guy, until the day a sadistic street gang brutally assaults his wife and murders his child. But when a corrupt judge sets the thugs free, Eddie goes berserk and vows revenge. Now theres a new breed of marauder loose on the city streets, enforcing his own kind of law. His justice is swift. His methods are violent. He is the Vigilante.
Blue Underground presents the film in a brand new transfer, taking from the original uncut and uncensored camera negative, featuring a DTS 7.1 HD Master Audio track. The disc will also contain a Commentary Track with Co-Producer/Director William Lustig and Co-Producer Andrew W. Garroni, and a second Audio Commentary with Co-Producer/Director William Lustig and Stars Robert Forster, Fred Williamson and Frank Pesce. Also included on the release are Theatrical Trailers, TV Spots and Radio Spots, as well as a Promotional Reel and a Still Gallery.
"Vigilante" arrives on Blu-Ray on September 21 for $29.98.