Warner brings more Turner Classic Movie sets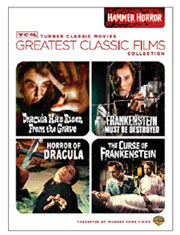 Inspired by the success of their previous sets, Warner Home Video is now releasing two more Turner Classic Movies DVD sets in September, covering Gangsters and Hammer Horror.
The Gangsters set will feature the movies Little Cesar, High Sierra, The Public Enemy and White Heat, while the Hammer Horror set offers up the classics Dracula Has Risen From The Grave, Frankenstein Must Be Destroyed, Horror Of Dracula and The Curse Of Frankenstein.
Both sets will arrive in stores on September 7 for $27.92 each. Too bad that no Blu-Ray versions of these films seem to be on the horizon.