David Fincher's Se7en is going high def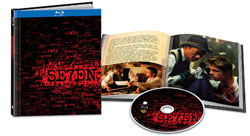 Warner Home Video has added David Fincher's dark thriller Se7en to their line-up, bringing the film to Blu-Ray Disc in September.
Brad Pitt and Morgan Freeman star in this searing psychological thriller about two detectives on the trail of a vicious serial killer who chooses his victims according to the seven deadly sins. Also features a riveting performance by Gweneth Paltrow and brilliantly directed by David Fincher, "Seven will knock you out of your seat!"
The release features a 1080p high definition transfer with DTS 7.1 HD Master Audio. As bonus materials, the release features Four Commentaries featuring director David Fincher, actors Brad Pitt and Morgan Freeman and other collaborators on the film. Also included are Additional and Extended Scenes, as well as Alternate Endings. Further you will find a Exploration of the Opening Title Sequence from multiple video angles with various audio mixes and two commentary tracks on the release, along with Production Design and Still Photographs with commentaries. Also look for The Notebooks, a full motion video that details "John Doe's" writings, as well as the movie's Theatrical Trailer.
"Se7en" arrives in high definition on September 14 for $34.99.