Spongebob feels Triton's Revenge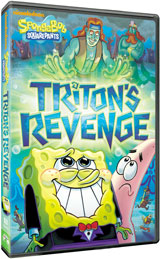 Paramount Home Entertainment has just added Spongebob Squarepants: Triton's Revenge to their line-up, scheduling the DVD for a July release.
In the TV Special Clash of the Triton, King Neptune is celebrating his birthday at the Krusty Krab, and SpongeBob wants to make sure all his friends and family are there, including his son, Triton. But Neptune and Triton don't get along, so when SpongeBob brings Triton to the party, sparks begin to fly!
The DVD will feature the TV Special episode as well as the Featurette "The Clash of Triton 126 Shorts" and the Featurette "Fan Boy & Chum Chum #101 Wizboy/Pick A Nose".
"Triton's Revenge" makes for DVD on July&13.