Showgirls celebrates its 15th Anniversary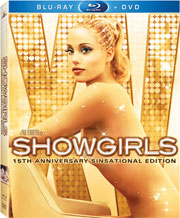 To some it is the most forgettable film ever made, to others it is a gem and a guilty pleasure. Now, MGM Home Entertainment and 20th Century Fox Home Entertainment are preparing a 15th Anniversary Sinsational Edition of Paul Verhoeven's Showgirls on Blu-Ray Disc.
Vegas, baby. Where the dreams and desires to make it big are as sharp as a stiletto heel. Enter Nomi (Elizabeth Berkley), a girl with the looks and drive to devour the glitz and glamour whole. When she catches the eye of Cristal (Gina Gershon), the main attraction at the Stardust stage show, Nomi is on the brink of realizing her dreams. But as she quickly bumps and grinds her way to the top, Nomi realizes that there is only room for one starlet on the marquee… and that either she or Cristal will have to take a fall!
The 2-disc release will feature a 1080p high definition transfer with a DTS 5.1 HD Master Audio track and will also include a Commentary Track by "Showgirls" connoisseur David Schmader., as well as a Trivia Track, a and a Lap Dance Tutorial. The release is rounded out by the Pole Dancing: Finding Your Inner Stripper.
"Showgirls" arrives in high definition on June 15 for $29.99.