Clash Of The Titans details unleashed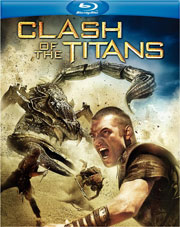 As we announced earlier this week, Warner Home Video is putting the final touch to the DVD and Blu-Ray release of the Clash Of The Titans remake. This morning we finally got more information about the upcoming release.
A remake of the 1981 cult classic, the story revolves around Zeus' son, Perseus, and his journey to save Princess Andromeda during which he must complete various tasks set out by Zeus, including capturing Pegasus and slaying Medusa.
Arriving as a Blu-Ray/DVD combo disc, the release will feature a 1080p high definition transfer of the film with high definition audio. In addition, the release will also contain Deleted Scenes and an Alternate Ending. Further, you will find the Featurette "Sam Worthington: An Action Hero for the Ages" on the disc, as well as the Harnessing the Gods: Maximum Movie Mode. The release will also offer up a Green Lantern Sneak Peek and will contain BD Live features.
"Clash Of The Titans" will arrive in stores on July 27.