Assault on Precinct 13 goes for the high def show-down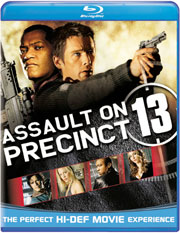 Universal Home Entertainment has added the remake of Assault on Precinct 13 to their Blu-Ray Disc line-up, scheduling the film for a July release.
Ethan Hawke and Laurence Fishburne lead an explosive, all-star cast, including John Leguizamo, Ja Rule and Drea de Matteo, in the gripping, action-packed thriller, Assault on Precinct 13. Run-down Precinct 13 is closing its doors forever. But everything changes when a high-security prison transport bus arrives with some of Detroit's most lethal prisoners. Soon, the only thing more dangerous than the criminals on the inside is the rogue gang on the outside. And if they're going to survive the night, two men on opposite sides of the law will have to work together to battle an enemy who doesn't follow the code of cop or criminal.
Featuring a 1080p high definition transfer with DTS 5.1 HD Master Audio track, the release also includes a Audio Commentary with Director Jean-Francois Richet, Writer James DeMonaco and Producer Jeffrey Silver, as well as the Featurettes "Armed and Dangerous," "Behind Precinct Walls," "Plan of Attack," and "The Assault Team". Further, the disc contains Deleted Scenes with optional commentary by Director Jean-Francois Richet. The Behind-the-scenes Featurette "Caught in the Crosshairs" is also included, along with Universal's My Scenes feature.
"Assault on Precinct 13" arrives on July 13 with a $26.98 sticker price.