When In Rome arrives in June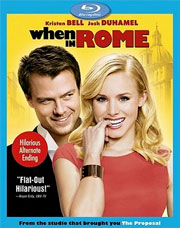 Walt Disney Home Entertainment has just added the romantic comedy When In Rome to their line-up, bringing the film to DVD and Blu-Ray Disc in June.
Bring home the must-own romantic comedy of the year, filled with wildly funny twists and turns! When Beth, an unlucky-in-love New York curator (Kristen Bell), takes a whirlwind trip to Rome for her sister's wedding, an unexpected crush takes her by surprise. Quickly let down, she defiantly plucks coins from the Fontana de Amore, magically igniting the passions of some comically unsuitable suitors. As a charming reporter (Josh Duhamel) becomes zealously smitten, Beth is skeptical that he's the real deal. Don't miss hilarious performances from an all-star cast you'll want to see again and again.
The DVD version, offering an anamorphic widescreen transfer with Dolby Digital 5.1 audio, will feature a Gag Reel called "Kerplunk! Bloopers From Rome", a selection of Deleted Scenes and Music Videos.
The Blu-Ray version will feature a 1080p high definition transfer with DTS 5.1 HD Master Audio and will also include these features. In addition, this disc will also contain a Alternate Opening and an Alternate Ending, as well as the Featurette "Crazy Casanovas".
"When In Rome" will be available on June 15 for $29.99 on DVD and $39.99 on Blu-Ray Disc.