Uncle Sam comes from the underground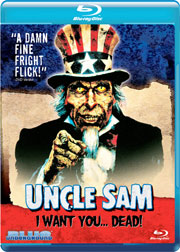 Blue Underground has added a Blu-Ray Disc version of Uncle Sam to their release line-up, scheduling the film for June.
It's Fourth Of July Weekend, and the recently discovered corpse of Sgt. Sam Harper – killed by "friendly fire" during the first Gulf War – is returned to his all-American hometown. But when Sam rises from the dead to punish the unpatriotic, only his young nephew and a bitter Korean War veteran (Soul icon Isaac Hayes of Shaft and South Park fame) can stop his red-blooded rampage. Draft dodgers, tax cheats, crooked politicians and flag-burners beware: Uncle Sam wants you DEAD!
The Blu-Ray version features a 1080p high definition transfer of the movie, complete with a DTS 5.1 HD Master Audio track. Two Commentary Tracks will be included on the disc, the first featuring director Bill Lustig and screenwriter Larry Cohen, the second one featuring Lustig with Isaac Hayes. lso included is a Gag Reel and Deleted Scenes.
"Uncle Sam" will come looking for you on June 22 for $29.95.