Flash Gordon saves the universe in high definition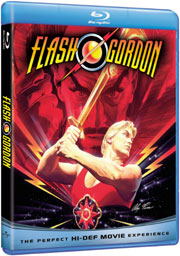 Universal Home Entertainment has added the 1980 cult version of Flash Gordon to their release line-up, bringing the film to Blu-Ray in June.
Alex Raymond's famous comic strip blasts to life in the action-packed sci-fi adventure Flash Gordon. When energy waves pull the moon out of orbit, New York Jets quarterback Flash Gordon (Sam J. Jones) unwittingly finds himself heading for the planet Mongo, where—with assistance from beautiful Dale Arden (Melody Anderson)—he'll take on Ming the Merciless (Max von Sydow) and rescue humankind. Featuring spectacular thrills, out-of-this-world special effects and unforgettable music by Queen, Flash Gordon is an exciting live-action adaptation of one of the most popular characters of all time!
Apart from a 1080p high definition transfer with DTS 5.1 HD Master Audio, the release will also contain a number of bonus materials, such as the Featurettes "Alex Ross, Renowned Comic Artist, On Flash Gordon" and "Writing A Classic" in which Screenwriter Lorenzo Semple, Jr. discusses the project. Further, you will find the First Episode Of The Flash Gordon 1936 Serial on the disc along with Universal's My Scenes and BD Live features.
"Flash Gordon" sets out to save the universe and rid the world of evil Ming on June 15 for $26.98.