Tim Allen is Crazy On The Outside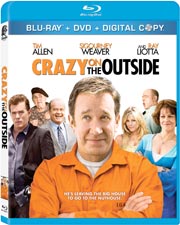 20th Century Fox Home Entertainment is bringing the comedy Crazy On The Outside to DVD and Blu-Ray Disc in April
When Tommy (Tim Allen) gets released from the big house, he discovers life on the outside is even crazier than it was behind bars. Tommy's eccentric sister Viki (Sigourney Weaver) won't get off his back, his sexy ex-girlfriend won't leave him alone, and his former partner in crime Gray (Ray Liotta) won't take no for an answer. Through it all, Tommy might just find the girl of his dreams and get convicted of love in the first degree.
The release will contain the Featurette "Inside Crazy On The Outside" as well as a Gag Reel.
"Crazy On The Outside" will arrive in stores on April 13.