Lucio Fulci's City Of The Living Dead rises again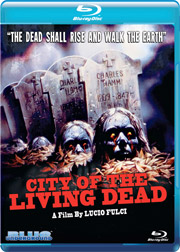 Blue Underground has just added a new version of Lucio Fulci's zombie epic City of the Living Dead to their release schedule, bringing the shocker to DVD and Blu-Ray Disc in May.
The Seven Gates Of Hell have been torn open, and in three days the dead shall rise and walk the earth. As a reporter (Christopher George) and a psychic (Catriona MacColl) race to close the portals of the damned, they encounter a seething nightmare of unspeakable evil. The city is alive – with the horrors of the living dead!
Directed and co-written by the legendary Lucio Fulci, "City of the Living Dead" features some of the maestro's most shocking and controversial sequences of all time.
The DVD Version feature an anamorphic widescreen transfer of the movie with DTS 6.1 ES audio as well as its original mono audio track. As extras you will find a Making-Of Featurette on the release featuring interviews with Star Catriona MacColl, Co-Star Michele Soavi, Production Designer Massimo Antonello Geleng, Assistant Makeup Effects Artist Rosario Prestopino, Special Effects Artist Gino De Rossi, Cinematographer Sergio Salvati, and Camera Operator Roberto Forges Davanzati. Further, the release will contain the movie's English Trailer, Italian Trailer and Radio Spots, as well as a Still Photo Gallery.
The Blu-Ray version will be even more exciting, offering a 1080p high definition transfer of the film, complemented by a DTS 7.1 HD Master Audio track. The release also includes all the bonus materials from the DVD version but will, in addition, also come with Acting Among the Living Dead, an interview with Star Catriona MacColl, Entering the Gates of Hell, an interview with Star Giovanni Lombardo Radice, and the featurette Memories of the Maestro in which the cast and crew reminisce about working with Lucio Fulci. The release will be rounded out by the Marketing of the Living Dead – Poster & Still Gallery.
"City of the Living Dead" will bring forth its unspeakable horrors on May 25 for $19.95 on DVD and $34.98 on Blu-Ray Disc.