Blue Underground brings in Django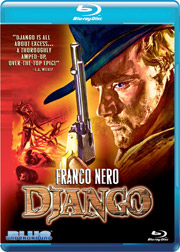 Blue Underground has added a Blu-Ray version of the Cult Spaghetti Western Django to their release line-up, bringing the film to high definition in May.
Franco Nero stars as the lone stranger who roams the West dragging a coffin filled with chaos towards a destiny ruled by vengeance. Co-writer/director Sergio Corbucci packs his landmark classic with indelible images, unforgettable performances and some of the most shocking brutality of any "Spaghetti Western" ever made. This is the still-controversial epic that defined a genre, launched a phenomenon and inspired over 50 unofficial sequels. This is the one and only "Django!"
Blue Underground has prepared a brand new transfer for this release form the original camera negative and will supplement the 1080p high definition transfer with a DTS HD Master audio track. Also included are Django: The One And Only, interviews with Star Franco Nero and Assistant Director Ruggero Deodato, as well as The Last Pistolero starring Franco Nero. You will also find "Western, Italian Style", a 1968 Documentary on the disc about the Spaghetti Western phenomenon containing interviews with Directors Enzo G. Castellari, Sergio Sollima and Sergio Corbucci
The release is rounded out by the International Trailer, the Italian Trailer and a Franco Nero Introduction.
"Django" comes to high definition on May 25 for $29.95.