Ong Bak gets ready for sequel with new Blu-ray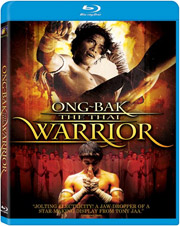 20th Century Fox Home Entertainment is releasing a new Blu-Ray version of the martial arts work Ong Bak: The Thai Warrior (likely to tie in with the prequel coming from Magnolia).
Tony Jaa, the fighting superstar "destined for film's martial arts pantheon" (New York Daily News) electrifies as Ting, a religious young warrior who swears an oath of peace. But when the head of Ong-Bak, his village's sacred statue, is stolen, he heads for Bangkok to recover it from a ruthless crime lord at any cost. In a film Time calls "exhilarating," with relentless, fever-pitched action free of stunt doubles and special effects. Jaa performs "moves that would send Jackie Chan to the chiropractor!" (Maxim)
The new Blu-ray Disc will carry some nice extras including a Live Tony Jaa And Stuntman Performance before a French audition, and a Featurette called "The Movements Of Muay Thai". Also included is the French Rap Music Video with Tony Jaa and a Making-Of of the music video. Further you will get three Deleted Scenes
"Ong Bak: The Thai Warrior" will be available on February 2nd for $24.99.