John Woo's The Killer comes to Blu-Ray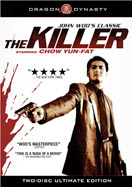 Genius Products has just announced a new titles as part of their Dragon Dynasty label to be release in March, John Woo's classic action thriller The Killer, unleashing it on DVD and Blu-Ray Dsic.
John Woo's guns-blazing masterpiece about a hitman with a code of honor ranks among the best action movies ever. International superstar Chow Yun-Fat plays an assassin who agrees to one last job before quitting for good, but when his bosses double-cross him, he must take on the mob and the police in one of the most explosive showdowns in cinematic history. Loaded with some of the most outrageously choreographed action sequences ever committed to film and an absolute hailstorm of bullets "The Killer" is one of the greatest action film ever made.
On DVD the film will arrive as a Two-Disc Ultimate Edition, offering up the movie, presumably complemented by a number of bonus materials, though sadly these extras have yet to be announced.
The film will also arrive on Blu-Ray Disc, sporting a 1080p high definition transfer and high definition audio. Sadly the extras for this version have also yet to be announced.
"The Killer" will clean up the mess on March 30 for $24.99 on DVD and $29.99 on Blu-Ray Disc.