Cocoon rejuvenates in April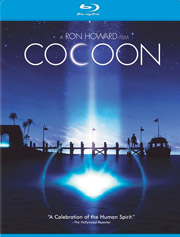 20th Century Fox Home Entertainment has added the truly endearing science fiction movie Cocoon to their release line-up, bringing a high definition version to Blu-Ray Disc in April.
When visitors from a distant galaxy return to Earth on a secret mission, their other-worldly powers afford a group of senior citizens who have expected nothing more from life than bingo, shuffleboard, aches and pains, the chance to capture their youth. Inspiring and insightful, Cocoon is a magical story of love, friendship and the human spirit.
Featuring a 1080p high definition transfer with DTS 5.1 HD Master Audio language tracks, no bonus materials have yet been announced for the release.
"Cocoon" will come to a store near you on April 6 for $24.98.