February sees a Special Edition of The Wolfman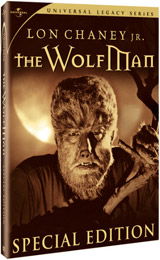 Coinciding with the new remake of the movie, Universal Home Entertainment is releasing a new Special Edition of the 1941 classic monster movie The Wolfman.
"Even a man who is pure in heart and says his prayers by night may become a wolf when the wolfbane blooms and the autumn moon is bright". In 1941, The Wolf Man introduced the world to a new Universal movie monster and the mythology of the werewolf was re-defined forever. Featuring a heartbreaking performance by Lon Chaney Jr. and groundbreaking make-up by Jack Pierce, this story of a cursed man who transforms into a deadly werewolf when the moon is full has not only become a masterpiece of the horror genre, but of all-time.
The 2-disc DVD release will feature a remastered transfer in the movie's original fullframe aspect ratio and supplement it with a few new bonus materials. Among the extras you will find a Commentary Track with film historian Tom Weaver, as well as the Documentary "Monster by Moonlight". also included are The Wolf Man Archives as well as Production Notes, Cast and Filmmaker Bios and the movie's Theatrical Trailer. On the second disc you will find a series of Featurettes, such as "The Wolf Man: From Ancient Curse to Modern Myth," "Pure in Heart: The Life and Legacy of Lon Chaney Jr.," "He Who Made Monsters: The Life and Art of Jack Pierce" and a look at Universal Horror.
"The Wolfman" will howl again on February 2 .