Tai Seng brings Assembly to high definition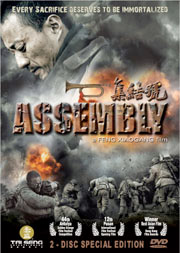 Asian cinema specialist Tai Seng Entertainment has just announced to bring Assembly to Blu-Ray in December.
Acclaimed Mainland Chinese director Feng Xiao-gang (A World Without Thieves, The Banquet) brings the little known Chinese Civil War into light with this powerful and unflinching film based on a true story. Captain Gu of the Communist Chinese Army's Ninth Company must prevent a mineral mine from being fallen to the approaching Nationalist KMT army. As Gu and his soldiers wait for their army's bugle assembly call which may never come, he must decide whether to retreat or fight to the last man. His decision and its consequences will haunt him for the rest of his life.
Praised by critics worldwide as China's answer to Spielberg's "Saving Private Ryan" with its equally visceral and riveting battle sequences, Assembly is not only an unforgettable war epic, it is also a moving tale of honor, heroism, and sacrifice.
The Blu-Ray version will feature 1080p high definition transfer of the 2007 movie, complete with a DTS 5.1 HD MAster Audio track in Mandarin as well as audio tracks in a variety of additional languages. Like the previously released DVD version, the Blu-Ray Disc will feature a Making Of Featurette and the movie's Trailer.
"Assembly" will arrive in stores around the country on December 29 for $29.95.