She-Wolf of London arrives on DVD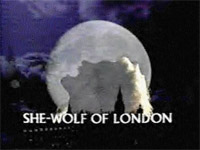 Universal Home Entertainment has just added a DVD set of the somewhat short-lived 1990 TV series She-Wolf of London to their line-up, bringing The Complete Series to your home in February.
In the tradition of Universal's famed collection of monsters comes "She-Wolf of London". Beautiful American grad student Randi Wallace (Kate Hodge) never suspected that traveling to England to study with handsome mythology professor Ian Matheson (Neil Dickson) would change her life forever. While conducting research on the misty and mysterious English moors, Randi is attacked and bitten by a werewolf. Now cursed to transform into a bloodthirsty werewolf during every full moon, the two must find a way to save her. Follow their adventures from London to L.A. as they search for a cure, battle supernatural forces and the romantic feelings they have for one another.
Arriving as a 4-disc DVD set, the release will feature all 20 episodes that make up the series in their original fullframe aspect ration, complemented by Dolby Digital Stereo audio tracks. Unfortunately no bonus materials will be included.
"She-Wolf of London: The Complete Series" takes a bite out of your video store on February 2.