Warner celebrates Malcolm X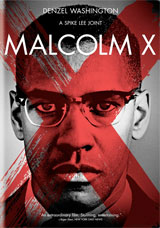 Warner Home Video has just added Spike Lee's Malcolm X to its DVD line-up, bringing this acclaimed biopic to you in Febraury.
One of the most charismatic and politically controversial voices in history, Malcolm X (Denzel Washington) burst into the public consciousness with a radical perspective on race relations in America. His inspiring and enlightening ideologies touched and continue to influence the lives of millions. The New York Film Critic's Circle awarded Denzel Washington Best Actor for his role in what Newsday calls "an extraordinary movie…powerful and compelling. Denzel Washington's performance is a tour de force!"
The release will feature a fullframe version of the film as well as an anamorphic widescreen version, complemented by a Dolby Digital 5.1 audio track. No bonus materials have been planned, but instead, the DVD will carry a low $14.95 price tag.