Universal season out Battlestar Galactica on Blu-Ray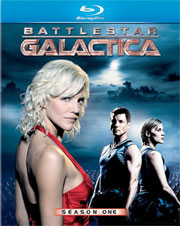 Finally Universal Home Entertainment is beginning to roll out Battlestar Galactica by season in high definition, starting with Season One in January.
With the 12 colonies of man virtually destroyed in the climax of a hundred-year war with the Cylon Empire, President Roslin (Mary McDonnell) and Commander Adama (Edward James Olmos) gather up the few humans left and embark on a journey to find the mythical planet Earth, not realizing that the Cylon robot is no longer a recognizable enemy. Battlestar Galactica is a complete re-imagining of the 1970s series – upping the ante on the action, adventure, and drama that made the original so popular.
The 4-disc Blu-Ray Disc set will feature all 13 episodes from the show's first season as well as the 4-hour TV mini-series that started the show's resurrection. Presented in 1080p high definition and supplemented with a DTS 5.1 HD Master Audio track, the release will also include all the bonus materials from the DVD version, such as the Commentary Tracks, the many Featurettes andDeleted Scenes among others.
"Battlestar Galactica: Season One" will be in stores on January 5 for $89.99.