Blue Underground has The Crazies for you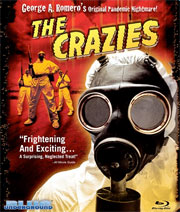 Blue Underground has added a Blu-Ray version of The Crazies to its scheduled releases, bringing the George A. Romero's 1973 film to high definition in February.
Its code name is "Trixie, " an experimental government germ weapon that leaves its victims either dead or irreversibly insane. When the virus is accidentally unleashed in Evans City, Pennsylvania, the small community becomes a war zone of panicked military, desperate scientists and gentle neighbors turned homicidal maniacs. Now a small group of citizens has fled to the town's outskirts where they must hide from trigger-happy soldiers while battling their own depraved urges. But even if they can escape the madness of this plague, can they survive the unstoppable violence of The Crazies?
The release will feature a 1080p high definition transfer, complemented by a DTS 7.1 HD Master audio track. Just as the DVD version did, this release will contain a Commentary Track by Director George A. Romero. Also included is a the Interview Featurette "The Cult Film Legacy of Lynn Lowry" and a selection of Trailers and TV Spots.
"The Crazies" will break loose on February 23 for $29.95.