The Toolbox Murders come to Blu-Ray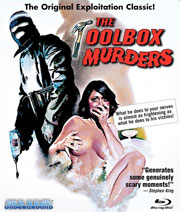 Blue Underground has just unveiled details about a Blu-Ray Disc version of The Toolbox Murders to be released in January.
In a quiet apartment complex in Los Angeles, a deranged handyman goes on a killing spree, savagely murdering "immoral" women with the tools of his trade – claw-hammers, screwdrivers, power drills and even a deadly nail gun! But these gruesome massacres are just the beginning of this landmark epic of violence and depravity that was vilified by critics, banned by censors, and treasured by splatter fans worldwide.
Cameron Mitchell (Blood & Black Lace), Wesley Eure (Land of the Lost), Aneta Corseaut (The Andy Griffith Show), Marianne Walter (adult film star Kelly Nichols) and former child actor Pamelyn Ferdin star in this notorious sickie – one of the most shocking exploitation films of all time. Now experience "The Toolbox Murders" at its bloody best – presented here uncut, uncensored, and newly remastered in blood-curdling High Definition from its original negative, complete with a DTS HD Master Audio track!
"The Toolbox Murders" will be released on January 26 for $29.95.