Magnolia makes its high definition debut in January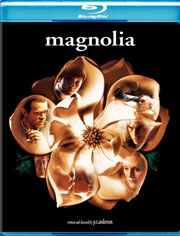 Warner Home Video and New Line Home Entertainment have added Paul Thomas Anderson's Magnolia to their release lineup, scheduling the Blu-Ray version of the movie for January.
"Magnolia" is a mosaic of American life woven through a series of comic and poignant vignettes. Through a collusion of coincidence, chance, human action, shared media, past history and divine intervention, nine people will weave and warp through each other's lives on a day that builds to an unforgettable climax. Some will seek forgiveness, others escape. Some will mend frayed bonds, others will be exposed.
The release will offer up a 1080p high definition transfer with a DTS 5.1 HD Master Audio track. The extras on the release will include the Magnolia Video Diary that covers the blossoming of a modern-day masterwork. Also included is the full Frank T.J. Mackey Seminar as well as the Seduce and Destroy Infomercial from the movie. The Aimee Mann Music Videos "One" and "Save Me" will also be included as well as the movie's Theatrical Trailers and TV Spots.
"Magnolia" can be your in high def on January 19 for $28.99.