Get ready for The Green Berets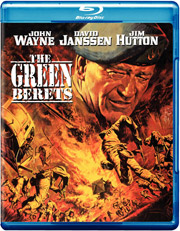 As the format matures, more classic catalog titles are getting the upgrade to Blu-ray. In January, Warner Home Entertainment will release The Green Berets.
John Wayne leads his special forces troops against the enemy in this first Hollywood treatment of the Vietnam War. It's rugged battle action all the way.
The 141-minute film will come with the Featurette "The Filmmakers: The Making of The Green Berets", but will otherwise, be a pretty barebones release, except for the movie's Trailer.
More John Wayne on Blu-ray is coming. The disc arrives on January 5th and will be in stores for $28.99.