Star Wars: The Clone Wars: The Complete Season One is on its way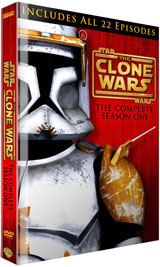 Lucasfilm has just announced that Star Wars: The Clone Wars: The Complete Season One will arrive on DVD and Blu-Ray Disc this fall through Warner Brothers.
As the Clone Wars sweep through the galaxy, the heroic Jedi Knights – including Anakin Skywalker, Obi-Wan Kenobi, Jedi Master Yoda and padawan Ahsoka Tano – struggle to maintain order and restore peace.  But despite the best efforts of these brave protectors, more and more planets are falling prey to the sinister forces of the dark side…
Arriving as a 4-disc set the release will include all 22 episodes from the animated show's first season in a unique packaging that also includes a 64-page Production Journal. It will also feature extended Director's Cuts of selected episodes.
The DVD version will feature an anamorphic widescreen presentation with DTS 5.1 audio as well as 22 Episodic Featurettes taking you behind the scenes with supervising Director David Filoni and the crew.
The Blu-Ray version will feature a 1080p high definition transfer and come with DTS 5.1 HD Master audio and will include the same bonus features as the DVD version. In addition, it will contain The Jedi Temple Archives, an extensive database exploring test footage, early concept art, 3-D character and object turnarounds and early animation. The Archives is a rare look at the assets in various stages of creation for "The Clone Wars," with a wealth of surprises and never-before seen moments sprinkled throughout.
"Star Wars: The Clone Wars: The Complete Season One" will make its home video debut on November 3 for $44.98 on DVD and $59.99 on Blu-Ray Disc.