New Line releases Menace II Society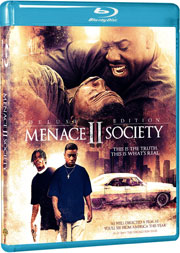 New Line Home Entertainment has just added Menace II Society to their release schedule, bringing a new DVD version and a Blu-Ray Disc version to market in September.
The place is Watts, but it could be any urban area blighted by guns and poverty. The person is 18-year-old Caine, but he could be any young man in the 'hood. The movie could only be Menace II Society, the bravura, uncompromising look at Caine's spiral – from missed opportunities to inescapable missteps – into the inner-city cycle of hate and death. The filmmaking duo The Hughes Brothers (Dead Presidents, From Hell) made their feature debut with this urgent instant classic now available in a compelling Extended Director's Cut. The actors (including Tyrin Turner, Larenz Tate and Jada Pinkett) electrify. The pace sears. And "Menace II Society" hits with an emotional impact that will leave you stunned.
The DVD Deluxe Edition will offer up the film in an anamorphic widescreen transfer in the film's original 1.85:1 widescreen aspect ratio with a Dolby Digital 5.1 audio track.
The Blu-Ray version will feature a 1080p high definition widescreen transfer and come with a high definition DTS 5.1 HD Master audio track.
Both versions will contain the identical bonus features, including a Commentary Track by Allen Hughes, Albert Hughes, Darin Scott, Ryan Williams, Tyger Willilams, and Larenz Tate. Also included is an Interview with the Hughes brothers and the new Featurette "Gangsta Vision".
"Menace II Society" will be in stores on September 8 for $14.98 on DVD and $28.99 on Blu-Ray Disc.