Lucio Fulci's New York Ripper is headed for your home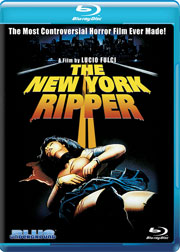 Blue Underground has added Lucio Fulci's controversial thriller The New York Ripper to their fall line-up, bringing the film back to DVD to also to Blu-Ray Disc in late September.
A blade-wielding psychopath is on the loose, turning The Big Apple bright red with the blood of beautiful young women. As NYPD detectives follow the trail of butchery from the decks of the Staten Island Ferry to the sex shows of Times Square, each brutal murder becomes a sadistic taunt. In the city that never sleeps, he's the killer that can't be stopped!
The DVD version will feature a new anamorphic widescreen transfer with a Dolby Digital 5.1 EX audio track as well as the original mon track.
The Blu-Ray Version release will offer up a brand new 1080p high definition transfer, struck from the original camera negative, complete with a DTS 7.1 HD Master Audio track as well as the original mono track.
As extras both versions will also feature an Interview with Zora Kerova entitled "I'm An Actress!" and the Location Featurette "New York Then and Now". The movie's Theatrical Trailer will round out the release.
"The New York Ripper" will appear in its uncut and uncensored on DVD and Blu-Ray Disc on September 29 for $19.95 and $29.95, respectively.