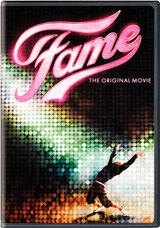 Warner Home Video is revisiting the 1980 dance phenomenon Fame this fall, bringing a Music Edition to stores in September.
Seven classes a day and a hot lunch. That's what New York City's High School for the Performing Arts guarantees. Stardom? That's something the school's teenage musicians, actors, dancers and dreamers strive for.
Fame sings the body electric, celebrating the growing-up process of honing talent, confronting realities, finding love, living life. Director Alan Parker brings an energetic style to the crisscrossing stories of students (including future Academy Award winner+ Irene Cara, Paul McCrane (ER), Barry Miller (Saturday Night Fever) and two who returned in the later TV series, Gene Anthony Ray and Lee Curreri).
The release will feature a DVD version of the music, as well as the full CD soundtrack. The release will be stacked with extras, such as a Class Reunion Commentary with Branching Video Highlights and featuring Director Alan Parker and Co-Stars Lee Curreri, Laura Dean, Gene Anthony Ray and Maureen Teefy.
Also included are the Vintage Featurettes " On Location with Fame," and "Fame Field Trip Visits the School That Inspired the Movie." Further you will find Q&A Interviews with Director F. Gary Gray and Producer Patricia Charbonnet on the release ,as well as the movie's Theatrical Trailer.
"Fame: Music Edition" arrives in stores on September 15 for $20.97.