Billy Jack is back in action in September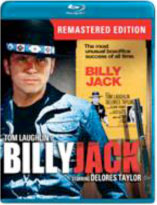 Image Entertainment will release a Blu-Ray Disc version of the 1971 movie Billy Jack in September.
A half-Indian/half-white ex-Green Beret, Billy Jack is drawn more and more toward his Indian side. He hates violence but can't get away from it in the white man's world. Pitting the students of the peace-loving free-arts school in the desert against the oppressive bad guys in a nearby town, this action-packed film remains a landmark focusing on the most emotional themes of the time: anti-establishment, two-sided justice, and racial segregation and prejudice.
The release will feature a 1080p high definition transfer, complemented by a DTS 5.1 HD Master Audio track. No bonus materials have been announced for the film.
"Billy Jack" will make his high definition debut on September 29 for $24.98.