Take a close look at Earth, our Home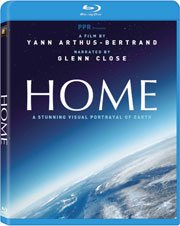 20th Century Fox Home Entertainment has added DVD and Blu-Ray Disc versions of the incredible documentary Home for release in June, reminding us all just how amazing our world is.
Experience the wonderment of our world in a way that will enthrall, captivate and inspire you! Award-winning aerial photographer Yann Arthus-Bertrand and narrator Glenn Close take you on a spectacular voyage around the world in "Home, " a unique film with such breathtaking imagery, you'll want to enjoy it time and time again.
The DVD version will feature an anamorphic widescreen presentation of the movie with Dolby Digital 5.1 audio in English and French, while the Blu-Ray Disc version will boast a 1080p high definition transfer, complemented by a DTS 5.1 HD Master Lossless Audio track.
You can take a good look at our "Home" yourself when the film will be release on June 5 for $19.99 on DVD and $29.98 on Blu-Ray.