Snakes on a Plane: Bring It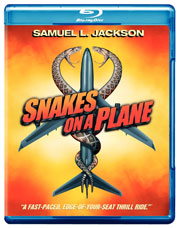 There will never be another Snakes on a Plane, and frankly, even Snakes on a Plane at home will never be the experience it was in that one brief moment of zeitgeist – but it's close. The film is coming to Blu-ray at last from Warner Home Entertainment.
The disc isn't barebones either, it will come with an audio commentary by Samuel L. Jackson and director David R. Ellis along with a blooper reel, deleted scenes, the music video by Cobra Starship, a featurette gallery and trailers.
The plane lands in September.